Search our site:

Christmas Traditions

with a Christian Emphasis
Christmas traditions have played an important part in our family holidays to emphasize the true meaning of Christmas - the birth of Jesus Christ. Family traditions can bring lasting bonds within a family too. These in turn can be passed along through the generations and give children as well as adults special memories and a sense of roots and belonging.
Following are several Christmas family traditions that we have used in over the years. We'd love to hear from you about other Christmas traditions that you have in your own families; just send us a note through our Contact Page.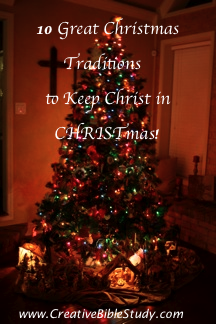 The Nativity with Christmas Story
We may consider the Christmas tradition of reading the Christmas story a given, but after hearing others talk, it often gets overlooked in the hustle and bustle of opening gifts and preparing a big meal.
Take time this Christmas to sit down with your family either on Christmas Eve or Christmas Day to read the story of the first Christmas in the Bible. When our children were little we would have them add the individual pieces to our Nativity set as we read the story.
As they have gotten older, we no longer put our wrapped gifts under the tree. Instead we set up our Nativity set under our Christmas tree to represent God's greatest gift - Jesus!
Setting up a Nativity set is a wonderful family tradition in itself! There are all sorts of Nativity Story activites for fun or interactive Christmas Bible lessons!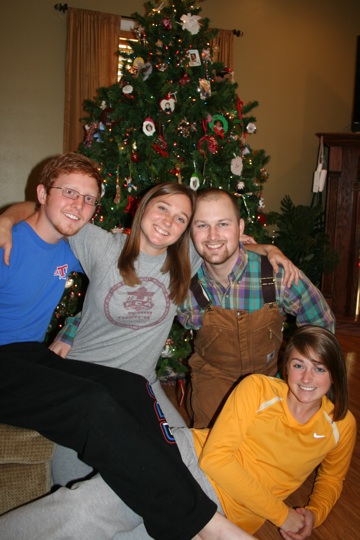 The First Gift
Still another family tradition we have is that the kids may open one single gift early on Christmas Eve. As they do we emphasize that God has given us the single greatest gift that was ever given in His Son, Jesus.
---
The Christmas Nail
Forgiveness Nail Ornament, Silver
By ORN / Roman, Inc.

Those who know and love Christ look forward to sharing the good news of the gospel especially at Christmas time. Our unique Christian witness Christian ornament is in the simple shape of a nail, and is inscripted...forgive them...;boxed for giving, with Scripture verse card. For God so loved the world, that he gave his only begotten Son, that whosoever believeth in Him should not perish but have everlasting life. John 3:16.
Ornament is resin in silvertones; 6.5" long; with red cord ready for hanging. Affordable and meaningful keepsake that points to the true reason for Christmas.
We purchased the Christmas Nail several years ago. Each year it is the first item to hang on the tree - before any other ornament. It hangs close to the center of the tree where no one else can see it. It is a reminder to each of us as a family member that we celebrate not only the birth of Christ, but also remember that He lived a perfect life and died on a cross made from a tree to pay the price for our sins. Therefore, we can also celebrate the fact that He was resurrected and lives! Because it hangs close to the center, it also reminds us that Jesus is to be the center of our lives as well.
Following is the story of the Christmas Nail:
This is the Christmas Nail. It is to be hung on a sturdy branch, a branch near the trunk, a branch that will hold such a spike without being noticed by well-wishers dropping by to admire one's tinseled tree. The nail is know only to the home that hangs it. Understood only by the heart that knows its significance. It is hung with the thought:
The Christmas tree but foreshadows the Christ tree which only He could decorate for us, with nails such as this.
This year we're starting a new tradition by making a Salvation Nail Ornament.
Special Christmas Ornaments
We have four children, and each year I make it a point to buy each a new ornament that in some way is special for them. For example, our oldest daughter was interested in horses for several years; therefore she has various horse ornaments. Also, each of our children played different sports; so some years they got ornaments that had to do with their various sports. Our oldest son is into hunting; he has several deer and hunting ornaments.
Christmas traditions can also remind us of loved ones that have gone on to be with the Lord. The years we lost my dad and mom they each got a special ornament in memory of my parents - butterflies for my dad and hummingbirds for my mom. (That's an inspiring story in itself for another time.)
Each of our children are different and unique. We want them one day to take their ornaments with them to their own homes to help them remember our family times together, but also to remind them of how God created them each unique and special.
"Happy Birthday, Jesus" Cake
When our kids were young, we had a birthday party for Jesus on Christmas Eve. We made a birthday cake, sang "Happy Birthday," and opened a gift. We really tried to emphasize that the real reason for the season is Jesus.

Other Christmas Traditions:
* 25 Days of Christmas Count Down!
*Bake goodies to take and share with others - shut-ins, nursing homes, children's homes, neighbors, etc.
*Serve together at a soup kitchen, nursing home, church mission, etc.
*Ride around and look at Christmas lights. Discuss how Jesus came to be the Light of the World.
*Watch a special Christmas movie together.
Family Christmas traditions don't have to be complicated or big. It's the small things that we do every year together that make an impression. We hope that one day our kids will pass these and their own Christmas traditions down to their children.
These are just a few of the Christmas traditions we have woven into the framework of our family's holidays. Family traditions can take place any time of the year and become an adhesive that holds a family together as well as set the stage for sharing the Christ of CHRISTmas.
Each year is just another opportunity to weave in new traditions. This year we're making homemade ornaments, some for which we'll use Chrismon patterns and other Christian Christmas ideas.

Also, don't miss out on these Christian Christmas object lessons; these too can become great Christmas traditions!
Special note: We do preview the websites to which we link, but are unable to peruse them completely. We try to check others' faith statements and make sure they do profess Jesus Christ as God's Son and salvation is found only in Him. It must, however, be your responsibility to personally dig into God's Word and allow the Holy Spirit to be your first and final teacher on all subjects.

"Our website may contain affiliate marketing links, which means we may get paid commission on sales of those products or services we write about. Our editorial content is not influenced by advertisers or affiliate partnerships. This disclosure is provided in accordance with the Federal Trade Commission's 16 CFR § 255.5: Guides Concerning the Use of Endorsements and Testimonials in Advertising."
---
Creative Bible-Bits Newsletter:

Let us help you keep up with what's new at Creative Bible Study with free Bible study lessons and ideas straight to your email!  Your information will be kept confidential and not be used for solicitation.

Free Ebooks: