Search our site:

Bible Study Lessons
Providing easy access to a variety of creative, free Bible study lessons is our goal!  We want to save you the time of looking and collect some of the best and most creative lessons and Bible study resources on the web into one location for you.
Bible studies are more detailed than Bible devotions and may focus on a single book of the Bible or may be topical in nature (ex: marriage or angels). As you browse through the various free Bible lessons below, ask God's Holy Spirit to guide you.
As Christians, the Bible, along with God's Holy Spirit, is to be our guide for life. Daily we need to search God's truth for how to live, as well as how to become more and more like Christ. God's Word is "living and active." (Hebrews 4:12)
When was the last time you sat down and enjoyed studying your Bible? Or has your class started yawning as they open up God's Word? Too many times we have in our mind that studying the Bible has to be boring (not that any of us would admit that to another Christian!). It's not meant to be though!
We can open His Word and find history lessons, science lessons, archeology lessons, and even math lessons. Most important though...
the Bible teaches valuable life lessons.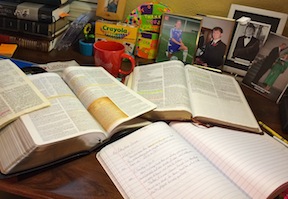 You may be thinking that you don't even know where to begin. Try these six simple steps on how to study the Bible. You may also want to follow a Bible reading plan. that will help you stay consistent and give you direction. There are many Bible study methods that can bring "variety & spice" to your Bible study time as well as Bible study tools to assist you in digging a little deeper.
Always start with prayer and let the Holy Spirit guide you. Remember - God's Word is living and He wants to speak to you personally. What is it that He's desiring to reveal to you right now?
Women's Bible Study Lessons
Whether you need Bible study material for your Women's Ministry, Sunday school class, Bible study class, or just for your personal use, you'll find interactive lessons here written and designed specifically for women by women. Included are free Bible study lessons from the Books of Colossians, I Peter, Psalms, James, Ruth as well as others. There are also Bible lessons that cover topics such as building your marriage, women of the Bible who made an impact, and seeking the face of our Savior. These free Bible lessons vary in format; some are audio lectures, while others are printable Bible studies with leader's guides.
Lessons from Pastors & More
Interactive Bible Studies are a great way to actively involve yourself or your students in studying God's Word. We have found several different sources that offer a nice variety.
We have found a wide selection of free Bible study lessons that are printable as well as free online Bible studies. Many of these are by well known authors and pastors such as Max Lucado, Charles Stanley and Adrian Rodgers.  Others are provided by publishers & journals such as Discipleship Journal.  These are Biblically sound Bible study lessons which will help you grow in your faith and walk with Christ.
Christian Apologetic Studies
1 Peter 3:15 challenges us: "But in your hearts set apart Christ as Lord. Always be prepared to give an answer to everyone who asks you to give the reason for the hope that you have. But do this with gentleness and respect,"
Find out how you can be prepared to give an answer and glorify our King by studying Christian Apologetics.
Bible Study Lesson Methods
Creative Bible study methods will lead you step by step in how to study the Bible for yourself through Book Studies, Verse-by-verse Studies, Topical Studies, Biographical studies and more. It is a 122-page printable study which includes questions, memory verses, background information on the Bible as well as Bible translations. It is a comprehensive guide on "How to Study the Bible!"
Prayer Life Lessons
And don't neglect your prayer life! Prayer and Bible study go hand in hand. Take a look at this free Bible study lesson on prayer which includes creative ideas for enhancing your prayer life along with your family or students!

Let variety be the spice of studying Scripture, and let's feast on all that God has for us!


Special note: We do preview the websites to which we link, but are unable to peruse them completely. We try to check others' faith statements and make sure they do profess Jesus Christ as God's Son and salvation is found only in Him. It must, however, be your responsibility to personally dig into God's Word and allow the Holy Spirit to be your first and final teacher on all subjects.

"Our website may contain affiliate marketing links, which means we may get paid commission on sales of those products or services we write about. Our editorial content is not influenced by advertisers or affiliate partnerships. This disclosure is provided in accordance with the Federal Trade Commission's 16 CFR § 255.5: Guides Concerning the Use of Endorsements and Testimonials in Advertising."
---
Creative Bible-Bits Newsletter:

Let us help you keep up with what's new at Creative Bible Study with free Bible study lessons and ideas straight to your email!  Your information will be kept confidential and not be used for solicitation.

Free Ebooks: