Search our site:

Bible Object Lessons 

Teaching the Trinity to Children on up!
Use these simple Bible object lessons along with Scripture to help students better understand the teaching of the Trinity in the Bible.
The word, Trinity, actually is not found in the Bible, yet the concept of God existing as one God, but in three persons is revealed throughout the Bible.
Nothing can quite capture the complete concept of the Trinity (One God - the Father, Son, & Holy Spirit), we must accept by faith that God is One and yet exists as the Father, the Son, and the Holy Spirit.
The following Bible object lessons are only inadequate tools, but can help children (or youth & adults) at least begin to grasp a better understanding.  Note that none of these are perfect comparisons; they all fall short.
For a more in depth article that expounds on this, see "What is the Doctrine of the Trinity?"

Bible Verses About the Trinity

Trinity seen in creation -
The Father: Malachi 2:10 - "Have we not all one Father? Did not one God create us?"
The Son: John 1:1-4 - "In the beginning was the Word, and the Word was with God, and the Word was God. He was with God in the beginning. Through him all things were made; without him nothing was made that has been made."
The Spirit: Genesis 1:2 - "the Spirit of God was hovering over the waters."
All Three as One: Genesis 1:26 - "Then God said, "Let us make man in our image, in our likeness,"
Mark begins his Gospel account pointing to the Trinity-

"One day Jesus came from Nazareth in Galilee, and John baptized him in the Jordan River.  As Jesus came up out of the water, he saw the heavens splitting apart and the Holy Spirit descending on him like a dove.  And a voice from heaven said, "You are my dearly loved Son, and you bring me great joy."
Mark 1:9-11

Trinity included in how we pray -

"pray to your Father, who is unseen"(Matt. 6:6).
Jesus,the Son, goes on to say in John 14:13, 14:14, 15:16, 16:23, 16:24, and 16:26 that we should ask in His name.
Romans 8:26 says: "We do not know what we ought to pray for, but the Spirit himself intercedes for us..."
Jesus speaks of the Trinity

Jesus leaves us with this command: Matthew 28:19 - "Therefore go and make disciples of all nations, baptizing them in the name of the Father and of the Son and of the Holy Spirit,"
Throughout God's Word He shows that He exists as the one, true God, but also as three identities.
Bible Object Lessons - The Trinity
Use clay or play dough as an interactive object lesson for teaching the trinity to children!  Scriptures are included along with a free complete Bible lesson plan.
Bible Object Lessons - What's in a Name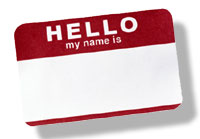 Object - a name tag

How many names do you go by? I go by Susan, Mom, Daughter, Sister, Teacher, and even Sweetheart sometimes(by my husband of coarse!)
Does this mean that I am more than one person? Of coarse not! In the same way God is one God, yet His identity is defined through three persons - God, Our Father; God, the Son; and God, the Holy Spirit.
*Of course, God is not three persons merely in name alone. 

H20 - Trinity Lesson from Water

Object - glass of water

Scientists call the substance of water H2O because it consists of super-tiny particles called molecules which are made of 2 even smaller atoms of Hydrogen joined to a single atom of Oxygen.
However, water (H20) can take a liquid form - water, a solid form - ice, and a gas form - steam. It remains H2O though no matter what form it takes.
In the same way God is One God as three persons - God the Father, God the Son, and God the Holy Spirit. He is still One God just as the substance we know as water is still H2O whether it is a liquid (water), a gas (steam) or frozen (ice).
*God, however, does not change from Father or Son to Holy Spirit in any way; God always exists as all three persons of the Trinity.  

Trinity Lesson from an Apple

Object - an apple

Have you ever eaten an apple? There are basically three parts - the skin, the flesh, and the core. All the parts are still one apple, yet they are all uniquely different.
Bible object lessons are just another creative way to teach the truth of God's Word. Remember - Hebrews 4:12 -
"For the word of God is living and active. Sharper than any double-edged sword, it penetrates even to dividing soul and spirit, joints and marrow; it judges the thoughts and attitudes of the heart."
*Again, the Trinity is still more complex; the Father, the Son & the Holy Spirit are more than a 'part' of God...they each are God...One God.


Optical Illusion to Illustrate the Trinity

Objects - Pieces of rope with colored tips and Christian magic trick instructions.
Optical illusions are not only fun Bible object lessons, but they capture kids' attention!  This one uses three pieces of rope tied into one to teach a Bible lesson on the Trinity.
Special note: We do preview the websites to which we link, but are unable to peruse them completely. We try to check others' faith statements and make sure they do profess Jesus Christ as God's Son and salvation is found only in Him. It must, however, be your responsibility to personally dig into God's Word and allow the Holy Spirit to be your first and final teacher on all subjects.

"Our website may contain affiliate marketing links, which means we may get paid commission on sales of those products or services we write about. Our editorial content is not influenced by advertisers or affiliate partnerships. This disclosure is provided in accordance with the Federal Trade Commission's 16 CFR § 255.5: Guides Concerning the Use of Endorsements and Testimonials in Advertising."
---
Creative Bible-Bits Newsletter:

Let us help you keep up with what's new at Creative Bible Study with free Bible study lessons and ideas straight to your email!  Your information will be kept confidential and not be used for solicitation.

Free Ebooks: