Search our site:

New Bible Games -
Product Review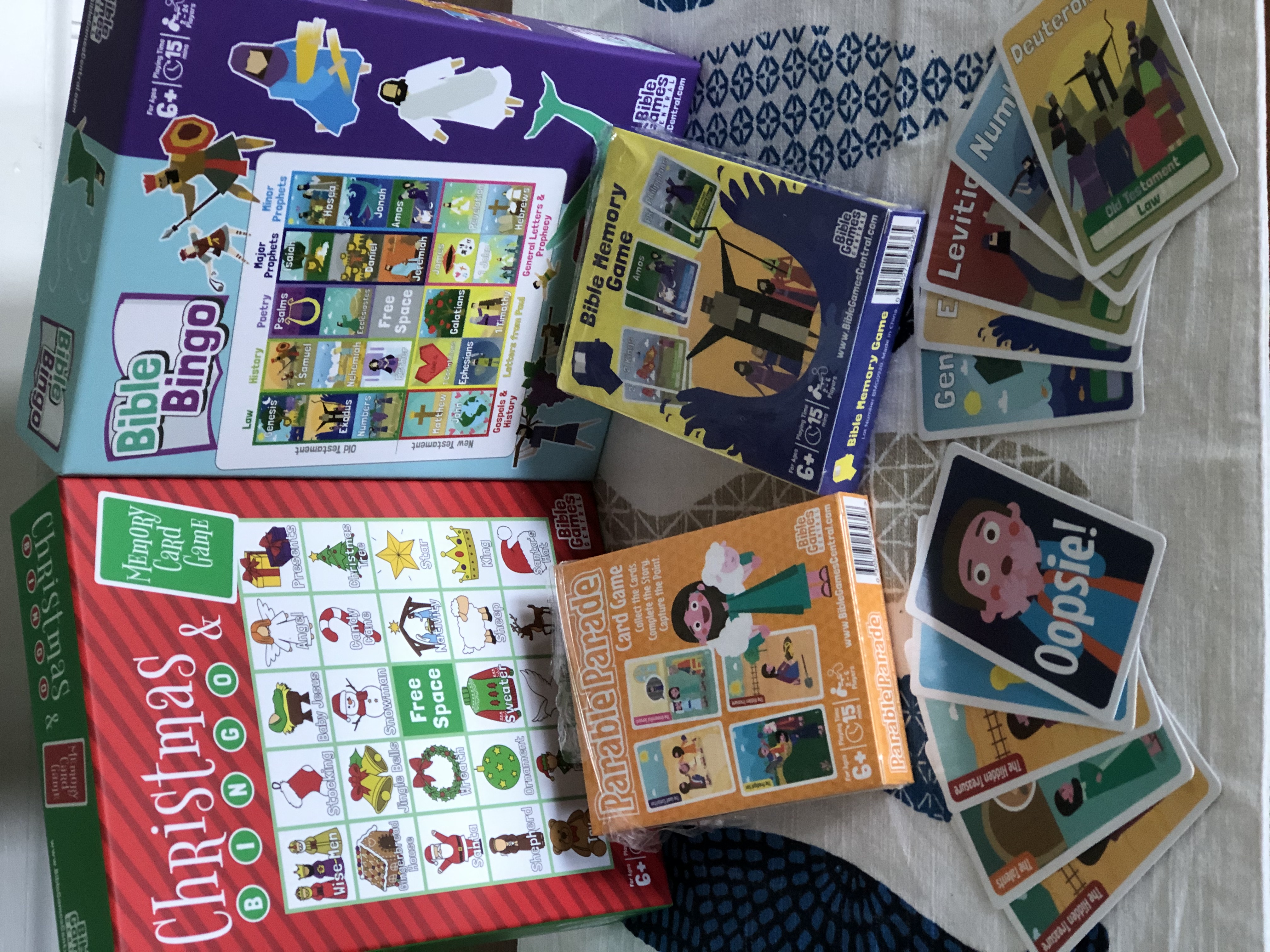 Here are four quality Bible games you may not know about!  Combine learning about God's Word with fun and you double your purpose.  These will add to any small group activity, family time, or homeschool resources.
Each of these are very well made and professionally packaged.  The two card games sell for $11.95 each while the Bingo games are $19.95 each. And they are just in time for Christmas!
All four of these come from Bible Games Central and when purchased will help support their ministry of the many free creative Bible games they offer online.  
Parable Parade -
product Review
Of the four, this is the most original.  It introduces players to twelve different parables Jesus told and includes summary cards for further discussion into each parable.
In addition to great Bible content, this game also encourages strategic thinking.  Yes, younger kids are able to play, but it offers a great competitive attraction for older players.  For this reason, it would be a great game to add to your Homeschooling Bible curriculum.  
The goal is to collect all four cards for a parable.  Cards are played face up and you may "purchase" someone else's card by putting three Kingdom Cards in the discard pile.  Because of this, players could strategically capsize another player's "almost complete" set.    Another strategy one may incorporate is "counting cards" as they are being drawn by various players in trying to predict when a fatal "Oopsie" card may appear.  All around, this game offers a lot in addition to a fun time!
It does come with instructions, but the video below offers a great introduction:
Bible Memory Game -
Product Review
This is basically a double set of Bible book cards...but so much more!  Each card includes the name of the Bible book, Old or New Testament, Bible section, and an illustration with key facts depicted.  
These can also be used for practice putting the Books of the Bible in order, a Bible drill draw pile, Bible book discussions and review, etc.  Of course they can also be used for a game of Bible Memory!  Select the number of matching cards to use.  These can be divided into smaller groups playing with certain Bible sections, just the Old or New testament books, or the whole shebang of 132 cards!  Mix cards up, turn them face down, and then players turn two cards up each turn trying to locate the matches.
However you play, kids will be learning more about God's Word!
Bible Bingo & Christmas BIngo

-

Product Review

These are both played like a classic Bingo game, but the Bible Bingo has so much more to offer!  I used this with my 3rd & 4th grade Sunday School class this past week, and it offered so much conversational teaching about Bible books, Bible sections, Bible authors, etc.

Each comes with 24 double-sided Bingo cards which are designed with the Books of the Bible in various sections as well as testaments.  This gives a great overview of the Bible and helps familiarize players with sections.

Again the 66 Calling Cards could be used for other Bible activities as well such as putting books in sections, dividing into Old & New Testaments, or practice putting books in order.  You could even have them interpret the illustrations on each.

Also included are 400 plastic Bingo chips and a Quick Guide which gives a great overview of all the materials and information included.

This will definitely be used often in our class!
Christmas BIngo -
Product Review
This is really your basic traditional Bingo game and includes 24 double-sided Bingo cards, 48 calling cards and 400 Bingo chips.
At first I was a little disappointed in this one.  Yes, it does include Christian Christmas symbols such as the Nativity, Baby Jesus, Wise Men, Holy Spirit dove, etc., but it also includes many secular Christmas items such as Santa, an elf, Santa's hat, Rudolph, etc.
Then I thought of all the discussions this variety of Christmas items could ignite in a small group or as a family!  Discussions such as what the main focus of Christmas truly is, which pictures portray something real versus make believe, etc.
Another plus is that the calling cards can actually double for a game of Christmas Memory since they are doubles of 24 items.
Bible Games Summary -
11-12-20
These four new Bible games would be great additions to any classroom, family game closet, Christmas list or Easter basket.  The card games are the perfect size for a unique and purposeful stocking stuffer for Christmas!
If you haven't been over to see all the free online Bible games available at Bible Games Central, I hope you'll go take a look now!  They have some great free games for the Thanksgiving & Christmas seasons!
All four of these Bible games are also for sale in their online shop.
---
This product review contains my personal thoughts and is not influenced by publishers or advertisers. I did receive free copies for review, but was not required to write a positive one and do not receive any monetary compensation.
Special note: We do preview the websites to which we link, but are unable to peruse them completely. We try to check others' faith statements and make sure they do profess Jesus Christ as God's Son and salvation is found only in Him. It must, however, be your responsibility to personally dig into God's Word and allow the Holy Spirit to be your first and final teacher on all subjects.

"Our website may contain affiliate marketing links, which means we may get paid commission on sales of those products or services we write about. Our editorial content is not influenced by advertisers or affiliate partnerships. This disclosure is provided in accordance with the Federal Trade Commission's 16 CFR § 255.5: Guides Concerning the Use of Endorsements and Testimonials in Advertising."
---
Creative Bible-Bits Newsletter:

Let us help you keep up with what's new at Creative Bible Study with free Bible study lessons and ideas straight to your email!  Your information will be kept confidential and not be used for solicitation.

Free Ebooks: