Search our site:

Object Lesson for Valentine's Day

Capturing kids' attention for a Bible lesson is easy using this science object lesson for Valentine's Day!  Curiosity is one thing that drives us to learn, and that is probably more true when it comes to teaching children.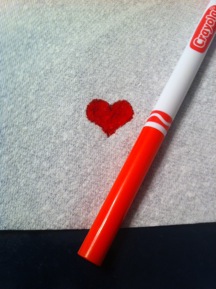 Items needed:   piece of paper towel for each student, plain pen, red markers, cups or bowls of water

Bible truth:  The point we want to get across to children using this lesson is that - first our hearts are empty without God's love and second that God means for us to share His love with others!
Bible verses:
John 3:16 - "For God so loved the world that He gave His one and only Son, that whoever believes in Him shall not perish but have eternal life."
1 John 4:19 -  "We love because he first loved us."
Romans 5:8 - "But God demonstrates His own love for us in this: While we were still sinners, Christ died for us."
John 14:23 - "Jesus replied, "If anyone loves me, he will obey my teaching. My Father will love him, and we will come to him and make our home with him."
John 7:38 - "Whoever believes in me, as the Scripture has said, streams of living water will flow from within him."
Matthew 22:37-39 - " Jesus replied: " 'Love the Lord your God with all your heart and with all your soul and with all your mind.'  This is the first and greatest commandment.  And the second is like it: 'Love your neighbor as yourself.'"
---

Valentine's Object Lesson of God's Love:

I would demonstrate the whole object lesson first and then allow students to try it for themselves if time and age permits.  First take a piece of paper towel; I used a half sheet.  Draw a single heart with a pen (not a marker) about two inches from the bottom.

Tell students this heart looks empty, and that is how our hearts are before we accept God's love for us.  Use John 3:16 as a familiar verse to begin talking about how much God loves us and how His love is for anyone who will believe or trust in Him.
Explain that God didn't just say, "I love you!"...He demonstrated it!  Explain that "demonstrate" means to "show" - just like you're "showing" or "demonstrating" this object lesson.  Ask kids how they "show" others they love them.  Explain that Romans 5:8 says that God demonstrated or showed His love for each one of us by sending Jesus to die for us.  Make sure they understand God's love doesn't depend on something we do first.  He loves us just the way we are, but because He loves us so much, He doesn't want us to stay the way we are - empty-hearted without Him!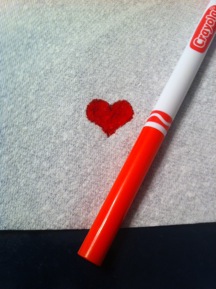 Use a red marker to color in the heart.  Tell students that when we believe and trust God's love for us through Jesus dying on the cross, He fills our hearts with His love!  In John 14:23 Jesus explains that when we open up our hearts to love Him, a change takes place and through His Holy Spirit, Jesus lives in and with us!  It also says that because of the change of Him filling our hearts with His love, we will then want to obey Him to show Him we love Him too!

At this point in the object lesson, allow some students to share if they have already been saved and filled with God's love.  Explain to others to keep seeking God or if they understand and are ready, take time after the lesson to go through the plan of salvation with them. 
Then grab kids' attention by excitedly saying, "But God doesn't want us to stop there!!! If we look, there are other empty hearts of people all around us!"
Draw three or more hearts with a pen in the area above the red heart. 
Explain that God wants us to share His love with others!  We don't have to do it alone though! 
Place the bottom of the paper towel into the shallow water so that children can watch as it soaks up the water.

When we allow God to "saturate" or "fill" our lives, His love will overflow and spread to others!  Jesus talks about this in John 7:38.

Jesus sums up all the Ten Commandments in Matthew 22:37-39 - Love God, Love Others! That pleases God and it is His best for us!
End the object lesson by emphasizing God loved us first, but because He showed His love for us by Jesus dying for our sins, we can love Him back and have eternal life.  Valentine's Day is a perfect time to start loving God and asking for His forgiveness and to fill your empty heart with His love.  That's the first step - love God! Then we are to stay close to Him and let Him fill our lives everyday so that His love will overflow through us - love others!
If time permits, you can allow each student to do this absorption experiment on their own! A Christian Object lesson are a great way to lock these Bible truths into their memory for any season or holiday of the year!

---
Object Lesson Science facts:
© Copyright 2014 Susan Smart
More Valentine Ideas & Lessons
Special note: We do preview the websites to which we link, but are unable to peruse them completely. We try to check others' faith statements and make sure they do profess Jesus Christ as God's Son and salvation is found only in Him. It must, however, be your responsibility to personally dig into God's Word and allow the Holy Spirit to be your first and final teacher on all subjects.

"Our website may contain affiliate marketing links, which means we may get paid commission on sales of those products or services we write about. Our editorial content is not influenced by advertisers or affiliate partnerships. This disclosure is provided in accordance with the Federal Trade Commission's 16 CFR § 255.5: Guides Concerning the Use of Endorsements and Testimonials in Advertising."
---
Creative Bible-Bits Newsletter:

Let us help you keep up with what's new at Creative Bible Study with free Bible study lessons and ideas straight to your email!  Your information will be kept confidential and not be used for solicitation.

Free Ebooks: