Search our site:

Object Lesson Using Candy
Object lessons are all around us each and every day! We can even learn a few from colorful candy like M&Ms or Skittles!
These candies aren't just delicious to eat, they offer us great Bible lessons that teach us about God's Word!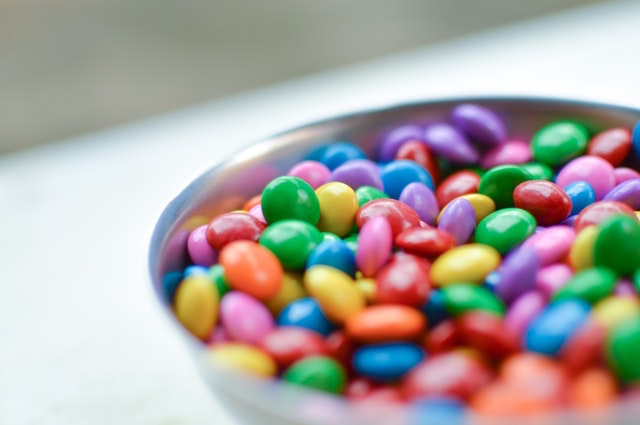 PeoPle are a lot like M&Ms & Skittles!

Topic:  God created us beautifully different on the outside but all special to Him
Object Lesson Title:  Different Yet the Same
Object: M&Ms Candy or Skittles
Bible Verses: Psalm 139:14, 1 John 4:9-16, 1 John 4:19
Key Takeaway:  We should see all our different skin colors and tones as part of God's creativity and beauty while remembering we each are special to God and created to be filled with His love.
Candy Object Lesson
Hold up a clear jar filled with either M&Ms or Skittles.  Ask students which of the colors is their favorite.  Get several answers and then ask if "Jon's" choice of color is better than "Amy's".  Ask does the yellow taste better than the green?
We know that although these candies are different colors on the outside, they are the same yummy sweetness on the inside.
God has created each of us unique in many ways too. 
One way is that we look different on the outside.  Have students compare the color of their arms.  No matter what color people may call us, there are so many shades of every color that we're all different, unique and special!
We LOOK different in other ways too!!!: 
* Have those with brown eyes stand.  Everyone sit.

* Those with curly hair stand.  Everyone sit.

* Those with earlobes attached at the bottom stand.  Everyone with sit.

* Those who can curl or roll their tongue stand.  Everyone sit.

* Those with dimples stand.  Everyone sit.
* Those who are left-handed stand.  Everyone sit.

* Those who have freckles stand.  Everyone sit.
* Those whose hairline on their forehead makes a point or widow's peak stand. Everyone sit.
There is no one exactly like you!  You are unique & special!
Have students open their Bibles to the verse for the week Psalm 139:14 –

"I praise You because I am fearfully and wonderfully made; Your works are wonderful, I know that full well."
Remind students that the book of Psalms is near the center of their Bible and actually a book of songs.  Psalm 139 was written by David.
In verse 14 David points out that we have been made – "wonderfully" – the Hebrew word there 'Pala' (paw-law) translated means "to distinguish, put a difference, show marvelous, separate, set apart, sever, make wonderfully".

David realized God had made him unique…different…even maybe a little "weird"!, and that was a wonderful thing! There is and never has been nor ever will be another me…another you!  God never makes a duplicate!  Even twins have differences!
Just as M&Ms & Skittles are all different looking on the outside with their various colors, so God has created us each unique and special.
We may all be different in a variety of ways, but one way we are the same is that we were all created to be filled. M&Ms are filled with chocolate - yum! Skittles are filled with sugary sweetness! And we are made to be filled with God's love - even better! Without the chocolate, an M&M is just a fragile shell with really no taste. Even so, we, without God's love, are fragile and empty too.
1 John 4:9-16 "This is how God showed his love among us: He sent his one and only Son into the world that we might live through him. This is love: not that we loved God, but that he loved us and sent his Son as an atoning sacrifice for our sins. Dear friends, since God so loved us, we also ought to love one another. No one has ever seen God; but if we love one another, God lives in us and his love is made complete in us. We know that we live in him and he in us, because he has given us of his Spirit. And we have seen and testify that the Father has sent his Son to be the Savior of the world. If anyone acknowledges that Jesus is the Son of God, God lives in him and he in God. And so we know and rely on the love God has for us. God is love. Whoever lives in love lives in God, and God in him."
Also, because of how M&Ms & Skittles are made, they are easily shared with others. God's love is made to be shared through sharing the Gospel - the Good News of Jesus Christ!
1 John 4:19 "We love because he first loved us."
Written by Susan Smart 2018


Next time you see M&Ms or Skittles Candy,
remember the truth of this object lesson -
You each are special!

The M&M Prayer Guide:

Here's a creative way to use M&Ms in prayer!
Special note: We do preview the websites to which we link, but are unable to peruse them completely. We try to check others' faith statements and make sure they do profess Jesus Christ as God's Son and salvation is found only in Him. It must, however, be your responsibility to personally dig into God's Word and allow the Holy Spirit to be your first and final teacher on all subjects.

"Our website may contain affiliate marketing links, which means we may get paid commission on sales of those products or services we write about. Our editorial content is not influenced by advertisers or affiliate partnerships. This disclosure is provided in accordance with the Federal Trade Commission's 16 CFR § 255.5: Guides Concerning the Use of Endorsements and Testimonials in Advertising."
---
Creative Bible-Bits Newsletter:

Let us help you keep up with what's new at Creative Bible Study with free Bible study lessons and ideas straight to your email!  Your information will be kept confidential and not be used for solicitation.

Free Ebooks: