Search our site:

Beloved:
365 Devotions for Young Women
- a Book Review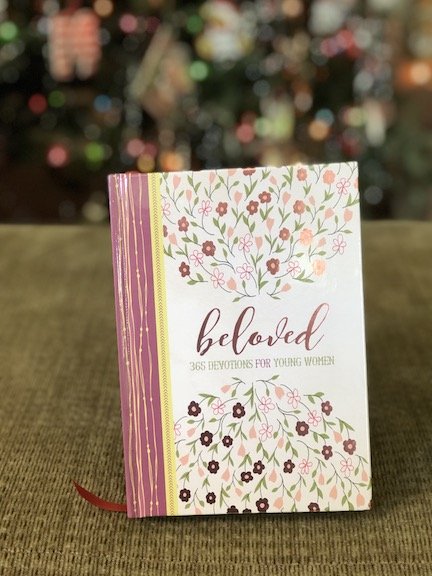 I hope this book review will introduce you to a quality book you may have otherwise not known about.
When I first received this book to review, I thought, "another devotional."  And although each day's reading is precise and short, these devotions for young women are both deep and powerful yet understandable.  Lindsay Franklin uses both familiar and not-so familiar women and men of the Bible to draw practical truth for everyday life – especially for young women, but really for any age.  

This little book of 365 entries will open your eyes to a new perspective and view of some of the more familiar women such as Eve, Sarah, Hannah, Rahab, Mary etc. that will also cause you to ponder and even possibly form a new view of yourself as well as the women around you.  Topics such as confidentiality, treating others with respect, not having to be the center or star, comparison & jealousy, and God can even use our mistakes are all covered.  The first to be emphasized though is "Girls and women are not God's afterthoughts. We're His daughters. Valued. Adored. Cherished. Beloved."
 Day 7 begins with Eve and moves through the Bible chronologically ending with Timothy's mother and grandmother.  The devotions cause you to slow down and really consider what took place in these women's lives, taking time to hear what God wants to say in yours.
One thing that really surprised me were a few Bible individuals I had never heard of before.  The daughters of Zelophehad - Mahlah, Noah, Hoglah, Milkah, and Tirzah from Numbers chapter 27 give a wonderful lesson on speaking our concerns, as well as listening to the concerns of others.  It made me interested enough to go there and read the full context.  
"In the story of Zelophehad's daughters we see a brilliant resolution of conflicet where all sides are heard - and then affirmed by God."
- Lindsay A. Franklin


My point is that a devotional that offers great Biblical wisdom in short understandable format and also inspires you to dig deeper into God's Word is a huge win!
I would not hesitate to give this to any young woman – one already actively growing in her faith or one who has never opened the Bible before.  "Beloved" has something to offer all…even those of us who may no longer consider ourselves young!
Book Review:  Quotes - A Glimpse from Beloved
"The antidote to the poison of shame is knowing and believing in your true identity, like Jephthah did." - based on Judges 11
"Think about the mark you're leaving on the world."
- in contrast to Jezebel  - 2 Kings 8
"He sees everything about us so clearly, even the not-so-great stuff, and still He offers us grace, love, and reconciliation."
- the woman at the well with Jesus - John 4
---
This book review contains my personal thoughts and is not influenced by publishers or advertisers. I did receive a free book copy for review per my request, but was not required to write a positive one.
Below is an affiliate link to Christianbook.com if you would like to purchase a copy; we do receive a small commission which helps fund our site. 
Beloved: 365 Devotions for Young Women
By Zondervan
Special note: We do preview the websites to which we link, but are unable to peruse them completely. We try to check others' faith statements and make sure they do profess Jesus Christ as God's Son and salvation is found only in Him. It must, however, be your responsibility to personally dig into God's Word and allow the Holy Spirit to be your first and final teacher on all subjects.

"Our website may contain affiliate marketing links, which means we may get paid commission on sales of those products or services we write about. Our editorial content is not influenced by advertisers or affiliate partnerships. This disclosure is provided in accordance with the Federal Trade Commission's 16 CFR § 255.5: Guides Concerning the Use of Endorsements and Testimonials in Advertising."
---
Creative Bible-Bits Newsletter:

Let us help you keep up with what's new at Creative Bible Study with free Bible study lessons and ideas straight to your email!  Your information will be kept confidential and not be used for solicitation.

Free Ebooks: