Search our site:

Thanksgiving Printables
Thanksgiving is almost here, and these free Thanksgiving printables can help as the preparations are beginning!  It's the perfect time for the kids to participate in the holiday fun. That's why Personal Creations has put together 30+ turkey crafts for kids.
They also included three printable activities: build a turkey, paper cup turkey and an I am thankful for fill-in-the-blank. Have the kids fill out what they are thankful for and discuss as a group. Or create paper cup turkeys that they can add to the Thanksgiving kids' table! 

Build A Turkey
These is a great Thanksgiving printables for kids to help with the decorating!  They could even write thinks they are thankful for on this little turkey's feathers!  
I Am Thankful For...ABC List & Cards


For even more inspiration, check out the blog post here. 

Thanksgiving Printables for DIY Game
Thanksgiving Name 5 Game cards & Instructions
Thanksgiving games of quick thinking can be competitive or used as a fun group activity to celebrate Thanksgiving.  You have ten seconds to name five things having to do with a certain category such as - "5 Thanksgiving Food," "5 Words that rhyme with Thank,", "5 Things you thank God for that begin with G," etc.  Download and print our free game cards that also include extra so you can make up your own!

Thanksgiving Printables - Crafts
Christian Preschool Printables offers several Thanksgiving printables for easy crafts to put together like a Thanksgiving Pumpkin Pocket and Pumpkin prayer booklet!
Say thanks with a card
The Idea Room offers a free printable "thumbprint" card which would be adorable for kids to take home with a note of thanks to parents or give to grandparents or others!  It could even be framed as a gift. This is a perfect way to say "thank you" in a personal way, and easy to add a Bible verse too!
Thanksgiving Bible Verses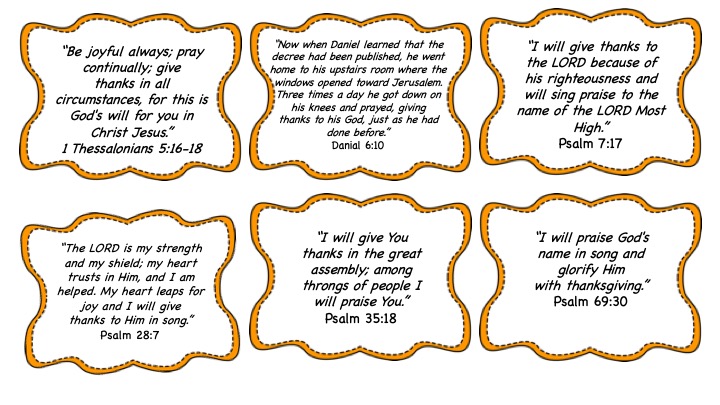 Use these 30 days of Thanksgiving Bible verses either for the month of November, the holiday of Thanksgiving, or any day for giving thanks!
Thanksgiving Bible Verse Cards
I think one of my favorite Thanksgiving Scriptures must be 1 Thessalonians 5:18, along with the two verses before it –
(1) 1 Thessalonians 5:16-18 NIV
"Be joyful always; pray continually; give thanks in all circumstances, for this is God's will for you in Christ Jesus."
I love this verse because it doesn't say, "give thanks for all circumstances," but "in all circumstances." When we choose to have an attitude of gratitude, keeping our focus on Jesus, the outcome is His joy that fills us no matter what surrounds us!
More Thanksgiving Bible verses
Special note: We do preview the websites to which we link, but are unable to peruse them completely. We try to check others' faith statements and make sure they do profess Jesus Christ as God's Son and salvation is found only in Him. It must, however, be your responsibility to personally dig into God's Word and allow the Holy Spirit to be your first and final teacher on all subjects.

"Our website may contain affiliate marketing links, which means we may get paid commission on sales of those products or services we write about. Our editorial content is not influenced by advertisers or affiliate partnerships. This disclosure is provided in accordance with the Federal Trade Commission's 16 CFR § 255.5: Guides Concerning the Use of Endorsements and Testimonials in Advertising."
---
Creative Bible-Bits Newsletter:

Let us help you keep up with what's new at Creative Bible Study with free Bible study lessons and ideas straight to your email!  Your information will be kept confidential and not be used for solicitation.

Free Ebooks: