Christmas Devotion Countdown

A Christmas devotion for each of the 25 days counting down to Christmas -

It's almost December and although stores have had Christmas decorations out since before Thanksgiving, how many of us have actually begun focusing our thoughts and hearts on the object of Christmas – Jesus? 
Have we hesitated a moment before buying that special gift for someone to think about God's most precious gift of His Son?  Have the hanging of Christmas lights caused us to praise Jesus for coming into this darkness as the Light of the World?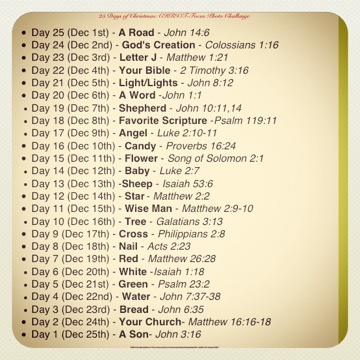 Here are twenty-five Christmas countdown on-the-go, active, object lesson devotions with Bible verses to help us keep our focus on the true reason for the season!  Each day snap a photo of each item for a visual and use as a photo challenge on Social Media, or with your family, small group, friends or just for yourself.  It's a fun way to enjoy the presence of Christ each and every day as we look towards celebrating His birthday! 
Christmas Devotion Countdown

#1 - A Road - John 14:6

"Jesus *said to him, "I am the way, and the truth, and the life; no one comes to the Father but through Me."
---
#2 - God's Creation - Colossians 1:16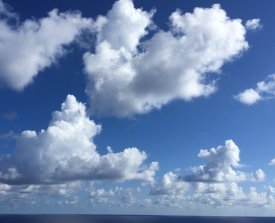 "For by Him all things were created, both in the heavens and on earth, visible and invisible, whether thrones or dominions or rulers or authorities—all things have been created through Him and for Him."
---
#3 - the letter 'j' - Matthew 1:21

"She will bear a Son; and you shall call His name Jesus, for He will save His people from their sins."
---
#4 - Your Bible - 2 Timothy 3:16

"All Scripture is inspired by God and profitable for teaching, for reproof, for correction, for training in righteousness;"
---
#5  - Light or lights - John 8:12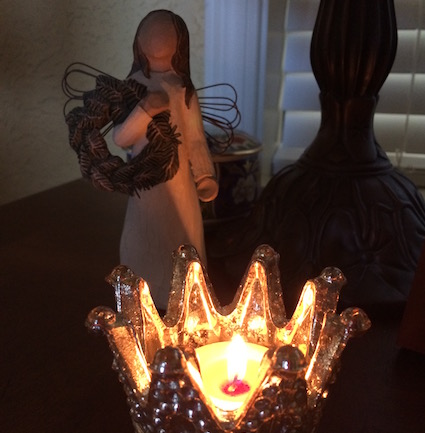 "Then Jesus again spoke to them, saying, "I am the Light of the world; he who follows Me will not walk in the darkness, but will have the Light of life."
---
#6 - A Word - John 1:1

"In the beginning was the Word, and the Word was with God, and the Word was God."
---
#7 - Shepherd - John 10:11,14

11- "I am the good shepherd; the good shepherd lays down His life for the sheep."
14- "I am the good shepherd, and I know My own and My own know Me,"
---
#8 - Favorite Scripture - Psalm 119:11

"Your word I have treasured in my heart,
That I may not sin against You."
---
#9 - An angel - Luke 2:10-11

"But the angel said to them, "Do not be afraid; for behold, I bring you good news of great joy which will be for all the people;  for today in the city of David there has been born for you a Savior, who is Christ the Lord."
---
#10 - Candy - Proverbs 16:24

"Pleasant words are a honeycomb, Sweet to the soul and healing to the bones."
Dec 10 - Christmas Devotion
---
#11 - Flower - song of Solomon 2:1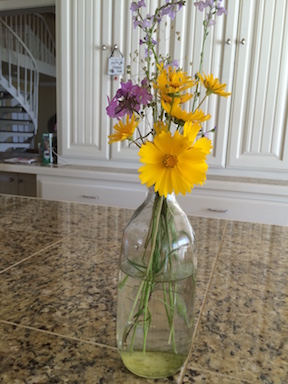 "I am the rose of Sharon, The lily of the valleys."
---
#12 - The Baby - Luke 2:7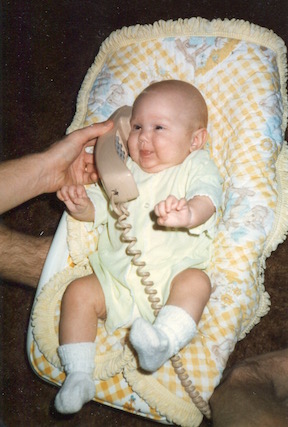 "And she gave birth to her firstborn son; and she wrapped Him in cloths, and laid Him in a manger, because there was no room for them in the inn."
---
#13 - Sheep - Isaiah 53:6

"All of us like sheep have gone astray, Each of us has turned to his own way; But the LORD has caused the iniquity of us all To fall on Him."
---
....more on its way!  :)

New American Standard Bible (NASB) Copyright © 1960, 1962, 1963, 1968, 1971, 1972, 1973, 1975, 1977, 1995 by The Lockman Foundation