Free Childrens Bible Lessons

These free Childrens Bible Lessons and ideas can help you impart the truth of God's Word in creative, meaningful ways to the youngsters in your life - whether you are a parent, grandparent, Sunday school teacher, or friend!
---
Bible Stories & Children's Bibles

---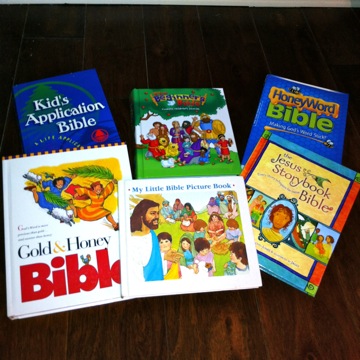 Begin with the basics especially with younger children and those that may not have any church background and new to the Bible itself.  Make sure to clarify the accuracy and validity of the Bible; it is NOT just another storybook!
There are many children's Bibles now available for any age child and written in language so that kids are able to both read and understand God's Word.  Check these out at Christianbook.com -

Children's Bibles
One of my favorites that was released in the past few years is
It presents the Bible as one story...the story of Jesus; it proclaims, "Every story whispers His name."  Zondervan also offers a complete Children's Bible curriculum based upon this little Bible storybook. 
No matter which Bible you may use, the following kids Bible lessons &ideas will help you draw out truths that are applicable to life and growing closer to God. 
More free Bible lessons for Kids!
---
Old Testament Bible Lessons

---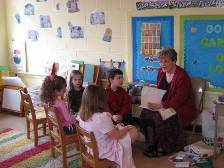 When you stop to think about the most well known Bible stories of the Old Testament, you will realize most of them actually come from the first book of the Bible - Genesis!
* Bible Lessons from Genesis

Genesis   1-2  Creation Bible Lesson     (KidsSundaySchool)

 "Incredible Me!" Created in the Image of God     (CreativeBibleStudy)

Noah - Series of 5 Preschool Bible lessons on Noah      (KidsSundaySchool)
Abraham - Called by God     (TheStory.com)

Isaac
Jacob
Joseph   -Tons of Resources for Story of Joseph     (Biblewise.com)
* Bible Lessons from Exodus

Exodus -  Moses     (CreativeBibleStudy)

* Other Well-known Old Testament Bible Stories

David - Shepherd Boy Becomes King - "I am Chosen"      (CreativeBibleStudy)

David & Goliath - "Five Smooth Stones"   (Sermons4Kids)

Daniel - Lessons from the Book of Daniel for 8-11 yr olds  (Ellen McHenry)

Shadrach, Meshack & Abednego -

Elijah & the Prophets of Baal
* Bible Stories You May Not Even Have Heard!

In reality, television and movies have nothing on the Bible when it comes to interesting stories!  Capture kids' attention with Bible stories about:
A Bible lesson for kids about speaking good
Ehud: the Left-handed Super Hero  
God Helps Us Make Wise Choices

Elisha & the Invisible Army of God
God's Invisible Power (Science lesson)
When teaching any type of Bible story, sensational or well-known, may we always make sure to point out what it teaches us about God.  Bible lessons for kids should always go beyond just "another" story to point to His Story that their lives may be changed by our King Jesus!
Calvary Curriculum offers 325 Childrens Bible lessons from both the Old & New Testaments and also offered in both English and Spanish!  I know I have missionary friends that are always looking for free quality Spanish kids Bible lessons!
---
New Testament Childrens Bible Lessons

---
Jesus used parables at all times of the day and in a variety of circumstances and locations. His teaching was ongoing.  Let's be like Him as we share God's truth with those around us!
If you're in a hurry though, try using our quick Object Lesson Index.
* childrens Bible Lessons from the Gospels

Jesus Feeds the 5,000 (Great lesson on attributes of God!)

* Other New Testament Bible Lessons

The Armor of God Lessons:

These  6 printable lessons based on the armor of God  taught in Ephesians 6:10-19 contain Bible stories, games, crafts and more from the Greater Phoenix Church of God.

Key Beginner Bible Lessons for Kids:

There are certain basic Bible truths that are key in leading a child to Christ and beginning their walk with Him.
Who is God?
What is sin?
Why did Jesus come & die?
What's the big deal about baptism?
Who is the Holy Spirit?
---
Themed Bible Lessons

---
Themed Childrens Bible lessons are sometimes needed for Vacation Bible School , Children's Church Camp, or other similar events. These also can be used as a series of lessons in Children's Church or Sunday School.
Another fun activity to go along with them is to have themed kid snacks. Children's Ministry Magazine offers some really great creative ideas for quality kids Bible lessons including edible Bible lessons!
"Incredible Me!" Series

This is a series of four free kids Bible lesson plans that we put together for our CrossKids Camp 2015.  These four lessons are based on Psalm 139:14 - "I am fearfully and wonderfully made" helping students understand that they matter to God!  They can be incredible because of Jesus and for Jesus right here and right now!
7 superhero bible lessons


These kids Bible lessons use the familiarity and fun of comic heroes along with truths from God's Word to help kids learn how they can stand firm and be a hero for God!
These are short concise Bible lessons for kids to do on their on or as a short Bible lesson for family worship, children's church, children's sermon, Awana counsel time, Upwards devotion, etc.
Most include links to longer more in depth kids Bible study lesson plans to use for classroom such as Sunday School or group lessons.
---
Holiday childrens Bible Lessons

---
Thanksgiving is a wonderful time to focus on giving God thanks and praise. Developing and attitude of gratitude takes practice and positive examples. Thanksgiving childrens Bible lessons, crafts, games, object lessons, etc. can help us teach children & youth this most important lifestyle while also reminding ourselves!
During this Christmas season use Christian Christmas activities including Christmas traditions and object lessons to keep Christ at the center of CHRISTmas.
Or for creative additions for childrens Bible lessons for your Christian Easter celebration try these great Easter activities and object lessons. Even Halloween can become a time for us to teach about the light of Christ using this pumpkin Gospel lesson and other creative Christian Halloween alternatives.
---
Bible Memory Lessons

---

Teaching children the importance of learning   Bible memory verses   is yet another important aspect. We have attempted to bring you several creative Bible activities, games, and coloring sheets that will help change the "work" into fun! The childhood years are a great opportunity to fill those little minds and hearts with good things!
This is also a great time for young ones to learn the books of the Bible! We've included the "famous" Books of the Bible song along with Books of the Bible flash cards which are great for teaching preschoolers too. While they are young is the prime time to take advantage of their amazing ability to memorize.
---
Children's Bible Lessons to Purchase

---
If you need further ideas for kids Bible lessons, we are an affiliate for Christianbook.com, and they have a wonderful selection of books that may be purchased at great prices: Childrens Bible Lessons
Super Simple Bible Lessons - Older Children Edition
By Abingdon Press

Have you ever needed a Bible lesson quickly? This resource solves your problem. Super Simple Bible Lessons contains sixty Bible lessons covering both the Old and New Testament. Each lesson includes a story, a Bible verse, and a super simple craft activity that will reinforce the story. Each craft activity is reproducible. Make as many copies as you need for your class of two or twenty. An easy-to-use index helps you locate specific stories for the children.
---
Creative Bible-Bits Newsletter:

Let us help you keep up with what's new at Creative Bible Study with free Bible study lessons and ideas straight to your email!  Your information will be kept confidential and not be used for solicitation.