Free Sunday School Lessons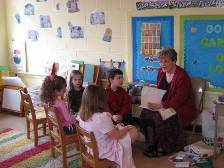 We love the fact that so many free Sunday School lessons are being developed by creative Christians and offered here on the web!  Many of us may be working on a "shoe-string" budget, and Sunday School material can be expensive!
That's why we want to locate & collect free Bible study lessons for you in one central location for easy access and also provide other Christian resources to help equip you as a Bible teacher!
Elementary & Preschool Free Sunday School Lessons

These 17 SUPER creative children Bible lessons from River's Edge Curriculum are free, printable and look like a ton of fun while imparting the powerful truth of God's Word! These Bible lessons for children are written for K-5 grades and  include detailed instructions along with a supply checklist.
Sunday School Resources offers 26 different New Testament & Old Testament Bible stories & Children's Bible Lessons with additional activities absolutely free! 
For younger children there are two great resources that offer free Sunday School lessons that incorporate a wonderful selection of Bible crafts and activity ideas!  DLTK's 44 lessons cover stories from both the Old and New Testaments. 

Working with preschoolers may require simpler free Sunday School lessons  with shorter segments to hold those tiny attention spans!  Holiday Bible lessons are also available and great to tie into special times such as Thanksgiving, Christmas, Valentine's and even alternatives to Halloween or Fall celebration lessons.
There may be other times you desire to use character building Bible lessons for children or "out-of-the-box" ideas such as using Bible Apps or Children's books to introduce or add to creative lesson times.

Object Lessons & Story Illustrations

People are God's ultimate creation and each is special to Him. To teach this truth, use a hands-on activity of treasure hidden in clay balls along with this little story & object lesson.  Object lessons for children give them something concrete to which they are able to  connect the lesson truth and lock it into their memory! 
Themed Bible Lessons for Children

Themed Bible lessons are sometimes needed for Vacation Bible School , Children's Church Camp, or other similar events. These also can be used as a series of lessons in Children's Church or Sunday School. Another fun activity to go along with them is to have themed kid snacks.   Children's Ministry Magazine offers some really great creative ideas for quality childrens Bible lessons for kids including edible Bible lessons!
Bread of Life Ministries also offers a wonderful selection of free themed Bible lessons for children.  They offer a full curriculum designed to be used in children's church ministry or children's worship, but are perfect to be used in a Sunday School class too! Each themed lesson includes Bible skits, games, object lessons and more! Even if you don't need a complete worship plan, look through their themed object lessons for some really fun ideas that can easily be developed into more free Sunday School lessons! Some of the themed Bible lessons include: "The Fruit of the Spirit", "Time Machine", "Heroes", and so many more. In addition, they include children's church advice and ideas including how to structure children's worship and maintain control with children in a church atmosphere.
Free Bible Lessons for Preteens & Youth

It seems in this day and age kids are no longer "children" for very long.  Before we know it they are moving into the preteen years and needing preteen Bible lessons that meet their needs in their fast-changing lives.
In the same way, youth are moving into adulthood and need engaging Bible lessons that not only depart knowledge, but also practical spiritual survival skills! 
Lesson Extenders & Teacher Helps

Don't let your lesson end when the allotted time runs out! Use these printable Bible activity worksheets for take-home review or as an extra fun activity. They include Bible crossword puzzles, mazes, word-searches and more for over fifty Bible stories.
To help children get a glimpse of the "big picture" and how the Bible fits together, use this children's Bible timeline which includes pictures of familiar Bible stories and the dates in which they occurred.

Christian bulletin boards are also great way to add a visual element to a lesson or they may be a lesson in and of themselves. Remember... by stimulating the five senses, we are helping students retain a greater amount of the material being taught.
How about ideas to help you teach children?   We want to motivate and equip you too. Enthusiasm in the original Greek means "inspiration by the presence of God," and it can be contagious! If you're enthusiastic, your children will be too; What more could we want than for them to be inspired by God!
When equipped with the right tools, it's easy to build quality, free Sunday school lessons that will impact the lives of kids!
---
Creative Bible-Bits Newsletter:

Let us help you keep up with what's new at Creative Bible Study with free Bible study lessons and ideas straight to your email!  Your information will be kept confidential and not be used for solicitation.