Search our site:

A little about us...
In case you'd like to know a little about us...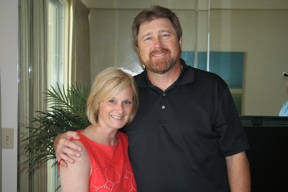 Jeff & I started SonLife, Inc. in 1985 as a ministry of Christian Bookstores. After 15 years in Christian Retailing, our ministry changed as Jeff's responsibilities as a full-time pastor increased, and I (Susan) took the position of a school librarian. It was time for SonLife to sell both bookstores. Jeff's brother now owns one, and it is still active in Hammond, LA.
SonLife became a part of our family a few months after we married back in 1985. We sat down one day and asked ourselves, "If we could do anything in the world what would it be?" Both of us shared a desire to own a Christian bookstore, and from that, God opened every door to make it happen. People thought we were crazy because we were in South Louisiana and the bottom had just fallen out of the oil industry boom. God knew best though!
About us as a family:

We also are parents of four wonderful children between the ages of twenty-two and thirty.  SonLife was instrumental in making it possible for me to stay at home with our kids while they were little and work my part of the business (keeping the books & ordering) from home. What a blessing to be able to do that!
We are presently serving in another wonderful church.  All of our children have full time careers now, and we have been left with an empty nest...but so proud of how God is using each of them uniquely for His Kingdom right where they are!  God has blessed our family in so many ways, but the greatest is that He has saved each one of us individually!
Oh...and we can sometimes be silly! ... or maybe we could just call it "creative"! 

About us as a website:

It is now our desire for SonLife to offer this site as a means to help others locate and access material that will equip them in the study of God's Word as well as teaching it. Some of the materials are our own, but we have found so many wonderfully creative Christians offering to share their ideas too completely free and all for the glory of the LORD! We hope you find what you need here as we all strive to serve together for His Kingdom!
If you are interested, you can find out how to build your own website too!
***Please note that although we do preview the websites to which we link, we are unable to peruse them completely. We try to check others' faith statements and make sure they do profess Jesus Christ as God's Son and salvation is found only in Him. It must be your responsibility to personally dig into God's Word and allow the Holy Spirit to be your first and final teacher on all subjects.
About us as believers in christ:

Our statement of faith

God
We believe that there is one God who exists in three persons: the Father, the Son, and the Holy Spirit.
Deuteronomy 6:4;Matthew 3:16-17

Jesus
We believe that Jesus is the Son of God, was born of a virgin, was wholly God and wholly man, lived a sinless life, died in our place as a sacrifice for the sins of mankind, was buried, arose bodily from the grave, and ascended into Heaven.
John 1:1-4,14; Luke 1:26-38; Hebrews 1:1-3

Holy Spirit
We believe that God the Holy Spirit is active in convincing unbelievers of their need for salvation, and is the Comforter and Guide Who lives in every believer.
John 14:16-17;Romans 5:5;1 Corinthians 6:19

Bible
We believe that the Bible is the Word of God without any error, the sole authority for life and faith.
Isaiah 40:8; 2 Timothy 3:16

Man
We believe that man is a special creation of God, made in His image, but that through the sin of the first man, Adam, mankind fell so that all men are sinners and need salvation.
Genesis 1:26;Romans 3:23;Romans 6:23

Salvation
We believe that salvation is a gift received through repentance toward God and faith in the Lord Jesus Christ.
Romans 10:9-10;Ephesians 2:8-9,

Assurance
We believe that every person who is truly saved is eternally secure in the Lord Jesus Christ.
Romans 8:16-18;Titus 3:5-7

The Church
We believe in the church of Jesus Christ as the body of true believers universal, called out by the Holy Spirit, espoused to be the Bride of Christ.
Ephesians 4:3-7, 5:25-27; Revelation 21:2

Christ's Return
We believe that Jesus Christ will literally return to earth.
Revelation 19:11-20:6

Eternity
We believe in the bodily resurrection of both the saved and the lost; the saved unto eternal life and the lost unto eternal judgment.
Revelation 20:5-6, 11:15
My personal testimony


We'd love to hear your testimony too! Below is a contact form if you'd like to share it or a prayer request. You may also use this form to contact us with other comments or input.
There is also a link exchange form below.
Well, now you know a little more about us! Blessings to you & your family!
In Christ,
Susan <><

---
Creative Bible-Bits Newsletter:

Let us help you keep up with what's new at Creative Bible Study with free Bible study lessons and ideas straight to your email!  Your information will be kept confidential and not be used for solicitation.