Kid Snacks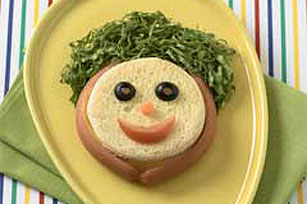 ---
Activities, games, and even kid snacks are an important part of making learning fun! Years ago the menu for Vacation Bible School snacks or Bible Club treats consisted of "cookies & Koolaide."
Many of the publishers of themed Bible lesson materials are now including creative and fun snacks for children to enjoy while also enhancing the teaching theme.
Following are easy snack ideas and recipes to go along with various Bible themes and lessons.
---
Western Theme Snacks
Trail Mix - Standard recipe - mix peanuts, raisins, and M&M's together; put in snack size bags for each child. You may also add a variety of cereals, pretzels, or dried fruit. Of course you could also purchase commercial brands.
S'mores - This brings back memories around campfires! Place a piece of Hershey's chocolate on a graham cracker; top with a marshmallow and another graham cracker. Heat a few seconds in the microwave and serve!
Cactus Juice - Lemonade or Green Koolaide

Prairie Dog Wraps

Haystacks - These cookies are easy to make and no baking is necessary.
---
Kingdom Kids Theme
Royal Jewels - String together jelly beans and Fruit Loops on dental floss to make edible necklace or bracelet.
Crown cupcakes/cookies - Use icing to make crowns on cupcakes or cookies. Use tiny decorating cookies to use for jewels on the crowns.
Royal Scepters - Make Cheese & Fruit Kabobs or serve frozen scepters - popcicles!
Royal Soda - Make traditional coke floats (a scoop of ice cream in a glass of coke) or make a fruit version using a sherbert and gingerale.
---
Fishing Theme
Dirt Cake in cups with "fishing worms" Goldfish Crakers - Kids love these for snack time and they come in fun rainbow colors now. There is also another brand called "Whales," these would be fun for the Bible story of Jonah snack.
Cookie Fish - Use oreos and fruit roll-ups for this fun "fishy" snack.
Banana Boats - Make banana splits; use small candies to make faces on the ice cream scoops and use small wooden skewers and dental floss to make fishing poles.
Ocean Water - Make blue Koolaide.
---
More Great Kid Snacks Recipes & Ideas ...

Vacation Bible School and Bible Themed Lessons