Bible Object Lessons on The Trinity

Use these simple Bible object lessons along with Scripture to help students better understand the teaching of the Trinity in the Bible.
The word, Trinity, actually is not found in the Bible, yet the concept of God existing as one God, but in three persons is revealed throughout the Bible.
Bible Verses About the Trinity

Trinity seen in creation -
The Father: Malachi 2:10 - "Have we not all one Father? Did not one God create us?"
The Son: John 1:1-4 - "In the beginning was the Word, and the Word was with God, and the Word was God. He was with God in the beginning. Through him all things were made; without him nothing was made that has been made."
The Spirit: Genesis 1:2 - "the Spirit of God was hovering over the waters."
All Three as One: Genesis 1:26 - "Then God said, "Let us make man in our image, in our likeness,"
Trinity included in how we pray -

"pray to your Father, who is unseen"(Matt. 6:6).
Jesus,the Son, goes on to say in John 14:13, 14:14, 15:16, 16:23, 16:24, and 16:26 that we should ask in His name.
Romans 8:26 says: "We do not know what we ought to pray for, but the Spirit himself intercedes for us..."
Jesus speaks of the Trinity

Jesus leaves us with this command: Matthew 28:19 - "Therefore go and make disciples of all nations, baptizing them in the name of the Father and of the Son and of the Holy Spirit,"
Throughout God's Word He shows that He exists as the one, true God, but also as three identities.
Although nothing can quite capture the complete concept of the Trinity (One God - the Father, Son, & Holy Spirit), the following Bible object lessons can help children (or youth & adults) grasp a better understanding.
Bible Object Lessons - What's in a Name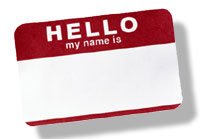 Object - a name tag

How many names do you go by? I go by Susan, Mom, Daughter, Sister, Teacher, and even Sweetheart sometimes(by my husband of coarse!)
Does this mean that I am more than one person? Of coarse not! In the same way God is one God, yet His identity is defined through different names and specifically three persons - God, Our Father; God, the Son; and God, the Holy Spirit.
H20 - Trinity Lesson from Water

Object - glass of water

Scientists call the substance of water H2O because it consists of super-tiny particles called molecules which are made of 2 even smaller atoms of Hydrogen joined to a single atom of Oxygen.
However, water (H20) can take a liquid form - water, a solid form - ice, and a gas form - steam. It remains H2O though no matter what form it takes.
In the same way God is God whether He is in the person of - God the Father, God the Son, or God the Holy Spirit. He is still one God just as the substance we know as water is still H2O.
Trinity Lesson from an Apple

Object - an apple

Have you ever eaten an apple? There are basically three parts - the skin, the flesh, and the core. All the parts are still one apple, yet they are all uniquely different.
Bible object lessons are just another creative way to teach the truth of God's Word. Remember - Hebrews 4:12 -
"For the word of God is living and active. Sharper than any double-edged sword, it penetrates even to dividing soul and spirit, joints and marrow; it judges the thoughts and attitudes of the heart."

Optical Illusion to Illustrate the Trinity

Objects - Pieces of rope with colored tips and Christian magic trick instructions.
Optical illusions are not only fun, but they capture kids' attention!  This one uses three pieces of rope tied into one to teach a Bible lesson on the Trinity.
---
Creative Bible-Bits Newsletter:

Let us help you keep up with what's new at Creative Bible Study with free Bible study lessons and ideas straight to your email!  Your information will be kept confidential and not be used for solicitation.