What a wonderful time of the year! It seems Christmas brings out the best in people; hearts seem to soften and be more open to the love of Christ. So let's make the most of it!
The Christmas countdown is on and we want to equip you with ideas that will place our focus, as well as those we teach, on the true meaning of CHRISTMas - Jesus!
Free Personal Bible Study
A Christmas Lesson of Hope is a free Bible study lesson that shares the hope found through the story of Christmas.

Also for your personal devotion time, take time to watch the following video and spend time in worship of our Lord and Savior Jesus Christ! Let this Christmas season bring a new awareness of spirit filled worship in our daily walk of life.

Christmas Hallelujah - Cloverton


Children, Youth & Family Times for Christmas

As Christian parents, grandparents or other adults involved in the life of a child, our greatest desire is to point them to salvation and life found only in Jesus!

The following are tools for this very purpose; they can be used in a family or church atmosphere to impact our kids - young & old!

Lessons from the Nativity can give fresh insights into a story that may have been heard many times or for the very first time. Let's take time this year as a family to not only put the Nativity set out for decoration, but to use it as a tool to draw our families closer to Christ.

Christmas Object Lessons using Christmas lights, candy canes, wrapped gifts, etc. can teach wonderful Bible lessons and keep Jesus in the forefront of our thoughts as well as our kids' thoughts during this season!

Play a game of "I Spy Jesus" with your family as you go through everyday happenings. Come up with your own object reminders of the closeness of Immanuel! For example - "I spy Jesus when I look at the Christmas tree; it reminds me that He came and died on a tree for my sin!" or "Those Christmas lights remind me that Jesus came as the Light into the world and I can shine His light to others around me too!"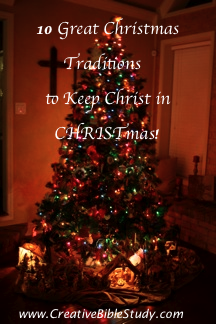 More Christian Family Christmas Traditions & Activities!

A Salvation Story Ornament is so much fun to make as a family or any group! We made them with our Heart-to-Home ladies' group. What an important aspect to remind us to look beyond the birth of Jesus and also remember His cross and greatest gift!

We pray you, your personal family, and your church family have a wonderfully blessed Christmas!

Sincerely in Christ,

Susan <><