Preparing for the Christ of Christmas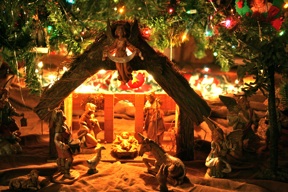 It's almost December and although stores have had Christmas decorations out since before Thanksgiving, how many of us have actually begun focusing our thoughts and hearts on the Christ of Christmas – Jesus?
Have we hesitated a moment before buying that special gift for someone to think about God's most precious gift of His Son? Have the hanging of Christmas lights caused us to praise Jesus for coming into this darkness as the Light of the World?
25 Christmas Devotions
Let's begin now. We have put together 25 Christmas devotions to help us focus on Jesus as we move towards His birthday. Each devotion uses a visual object to help us connect His Word to His world around us and also as a reminder of Him as we see each of these objects during this Christmas season and beyond. Christmas Devotions - Journey with Jesus
Other Christmas Activites
Christmas Object Lessons and Christian Christmas activities can be woven into the 25 days leading up to Christmas to add Christ-focused meaning. Keeping Christ as the center of our Christmas celebration is also vital as we pass along our faith through Christmas traditions.
Countdown to Christmas Photo Challenge
Each day snap a photo of each item for a visual and use as a photo challenge on Social Media, or with your family, small group, friends or just for yourself. It's a fun way to enjoy the presence of Christ each and every day as we look towards celebrating His birthday! We'd love for you to tag us so we can see your posts celebrating Jesus! Christmas Countdown Challenge
---
We pray you, your family, and your church family have an amazing Christ-centered Christmas in His Word and His presence! Merry CHRISTmas!

Sincerely in Christ,

Susan <><