Free Bible Study Lessons
Get involved in Bible study through free Bible Study lessons that are interactive. We have several from various sources that offer a variety of creative methods to get you or your class actively involved in studying God's Word.
Many of them are free printable Bible lessons which you can take with you or create your own Bible study notebook.
---

---
Interactive free Bible studies not only provide you with commentary and background facts for Bible passages, but also invite your input through thought provoking questions, lesson quizzes, and other suggestions to help you draw all you can from the Scriptures.
These free Bible study lessons walk you through Bible activities as you study. Don't worry - you're not left on your own to do all the work. Many definitions, historical facts, Bible commentary thoughts and more are included in each lesson. Think of these as Bible study guides to lead you as you take the journey with God through His Word.
---
Bible Studies Net offers interactive free Bible studies that even have positive feedback built into them to encourage you along the way.
These are free printable Bible study lessons. Here you will find many lessons on individual books of the Bible including Bible studies from Revelation.
If you are a Bible teacher, excellent leader guides are included for many of the studies; they even give you suggestions for visual aids to stimulate active involvement in the study.
---
---
Discipleship Journal
by Navpress offers eight free printable Bible studies that are short and yet challenging.
"Exploring Fruitfulness" Allowing the Holy Spirit to produce fruit through your life
"Invitation to Oneness" A Bible study on how the Trinity provides a model for unity
"Spiritual Disciplines Workshop" Taking a personal inventory of your spiritual life
"A Generous Heart" Examining the rewards of stewardship Bible study
"Everyday Life in the Body" A Bible study on the New Testament church
"The Heart of the Gospel" Examine Scriptures that give the basics of the Gospel of Jesus Christ
"You are Blessed" A Bible study on the Beatitudes
"Honest to God" Bible study on prayer and being honest with God
---
Just for Women Bible Studies
Whether you need Bible study material for your Women's Ministry, Sunday school class, Bible study class,or just for your personal use, you'll find interactive lessons here written and designed specifically for women by women. Included are free Bible study lessons from the Books of Colossians, I Peter, Psalms, James, Ruth as well as others. There are also Bible lessons that cover topics such as buiding your marriage, women of the Bible who made an impact, and seeking the face of our Savior. These free Bible study lessons vary in format; some are audio lectures, while others are printable Bible studies with leader's guides.
---
Max Lucado Bible Study Lessons
One of my all-time favorite authors (yes, I know, I have many!) is Max Lucado. His books, Bible studies, and picture books for children all hold powerful yet practical Bible study lessons that will strengthen your faith for the journey. Now available are over fifty Max Lucado free Bible study lessons from excerpts of several of his books including Facing Your Giants. If you have never had the opportunity to read any of his writings, please take this opportunity now to join him in drawing riches from God's Word.
Or if you'd like to get a personal Bible study lesson from Max Lucado, watch his video Bible lessons.
Also his picture books are not only for children, they hold powerful messages for any age. You Are Special is an uplifting story of God's unconditional love for us.
---
Adrian Rogers Bible Studies
Although Adrian Rogers has gone on to be with the Lord, his writings and Biblical studies are still available. We were blessed to meet he and his lovely wife on a Christian cruise a few years ago. They truly were some of the most down to earth people in the ministry.
Adrian Rogers' Bible studies are both thought provoking and yet practical for daily Christian living. Over twenty are available here online including: "The Battle for the Mind," "God's Design for Marriage," "How to Pray for Friends and Influence People," and many more that will draw you to dig deeper into God's precious Word.
---
Charles Stanley Free Bible Study Lessons
When my mother was living, one of her favorite preachers to listen to was Charles Stanley. In-Touch Ministries has now made available fifty free printable Charles Stanley Bible studies based on some of his sermons.
---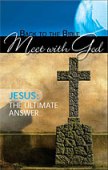 You can also access many studies with attractive layouts from Back-to-the-Bible along with their "Meet with God" series. Free Bible study lessons from Back-to-the-Bible include topics such as: understanding your Bible, lessons on living from David, the book of Galatians and more.
The "Meet God Series" is a year's worth of Bible studies that offer Bible readings and practical ways for applying God's truth. There are also archives of lessons from the past three years!
---
We hope you will not only find some of the best Bible study materials around, but also that you will find tools that will aid you in your personal Bible study time as well as in preparing you to teach others the wonderful truths found in the Holy Scriptures.