14 Free Back-to-School Object Lessons for you!
You can tell it's back-to-school time, and we have 14 new (and free) fun school supply object lessons to help you send kids back to school with Jesus on their minds & hearts!
* A BACKPACK can teach about our unique gifts & abilities God has given us or it can teach lesson on trusting God with our worries and fear!
* PENCILS can teach us that if we allow ourselves to be held in God's hand and let Him control and guide our lives, we can accomplish great things?!
* A NOTEBOOK teaches God can use us in amazing ways when we come to Him for a clean heart and right spirit. Includes a Doodle Prayer template.
* SCISSORS give a lesson on how our words can cut and hurt - a lesson to address bullying and how we should use our words in kindness. SCISSORS can also be used to demonstrate how God can do the impossible!
* Use GLUE to help kids understand that although we can't see God's Holy Spirit, He can be with us and strengthening us so we do not have to be afraid or alone. Includes instructions for fun optional craft ideas as a take home reminder.
* A box of CRAYONS teaches a super Bible lesson on being kind and not a bully! Take this even further and use each of the COLORS to teach a lesson on the Fruit of the Spirit. Encourage kids to remember each as they use their crayons at school this year!
* A CHALKBOARD or Dry Erase Board can be used to teach a fun interactive object talk on sin and the need for forgiveness. Using a misspelled word shows kids that just because we want to do something our way doesn't make it right.
*Two object talks using MATH! The first uses corresponding numbers with letters in words to demonstrate God's great love for us! The second MATH Bible lesson uses equations demonstrating how perfect & orderly God shows Himself to be even in the area of computing numbers!
* FOOTBALL season is a great reminder of the armor of God and the protection God gives us in the game of life. No football player, in their right mind, would run on to the field for a game without his uniform including all the pads!
* Finally..A yummy M&M'S candy object lesson pointing out three important things about Christians - we are marked as believers; we are different and not all the same; what really matters is what's on the inside of us - Jesus! This is a sweet lesson that can be used to help see the differences in our skin colors as something creative and beautiful by God.
Just click here to open the link: 14 Object lessons from School Supplies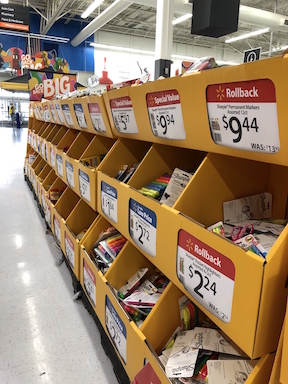 ---
Thanks for staying connected with Creative Bible Study! This year I'm coming home to work full time; I hope to do a better job keeping you up-to-date with new Bible studies & resources! I'm looking forward to a great year spreading God's Word together with you! :)

Sincerely in Christ,

Susan <><