Search our site:

Christian Object Lesson
Object lessons can give us great illustrations of spiritual principles straight from the Bible!  These are short and simple enough to use for a children's sermon or quick devotions for Awana Club or Upwards or they can be turned into a whole Sunday school lesson or Bible study lesson for children, youth or adults!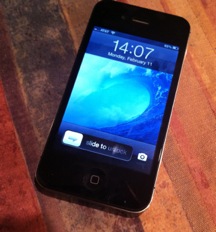 Topic:
We need to be spiritually charged to be used just like a cell phone needs to be charged.
Materials:
A Cell phone

Bible verses:

Proverbs 8:34, Luke 10:38-42
 Object Lesson:

What can we learn from a cell phone? Have you ever left your charger behind when you went on a trip? Without access to a source to recharge, it probably finally went dead and was unusable.
What about us spiritually? Have you ever been so busy you ran out of charge because you neglected to "plug-in" to the Source (God)?
Daily time "plugging-into" God's Word and a time of prayer is essential if we as Christians want to be usable in God's hands.
The Bible says in Proverbs 8:34 "Blessed is the man who listens to Me, watching daily at my doors, waiting at my doorway."  
In Luke 10:38-42, Jesus uses a real life object lesson using the example of two women, Mary & Martha. 
"Now as they were traveling along, He entered a village; and a woman named Martha welcomed Him into her home. She had a sister called Mary, who was seated at the Lord's feet, listening to His word. But Martha was distracted with all her preparations; and she came up to Him and said, "Lord, do You not care that my sister has left me to do all the serving alone? Then tell her to help me." But the Lord answered and said to her, "Martha, Martha, you are worried and bothered about so many things; but only one thing is necessary, for Mary has chosen the good part, which shall not be taken away from her."
Martha was busy, busy rushing around preparing for Jesus and His companions.  Mary, on the other hand, was found sitting at Jesus' feet listening to Him.  Jesus pointed out that Mary had chosen what was best. 
When we don't take time to get alone with God and get spiritually recharged, we will be running on our own power and it will be gone quickly!  But if we will take time to plug into God and allow Him to fill us with His Spirit, we no longer will be running on our own power, but on God's!

Think about it...when you go without food for a period of time, how is your strength and stamina? We must take time to feed and nourish our spirit too, and the way to do that is spending time sitting at Jesus' feet just as Mary did. He said of her that she had chosen "the best." He is to be our source and strength.
Get "plugged-in!"
A cell phone can also teach a wonderful object lesson about salvation!

---
Creative Bible-Bits Newsletter:

Let us help you keep up with what's new at Creative Bible Study with free Bible study lessons and ideas straight to your email!  Your information will be kept confidential and not be used for solicitation.