Christian Object Lesson: Cell Phone
Use your cell phone for more than just talking to others! It can be a Christian object lesson to teach God's truth to our children or others around us.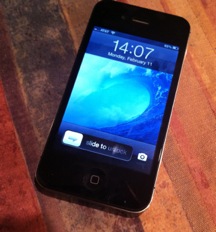 Theme
God desires for us to call on Him anytime and anywhere. Jesus is the only way to God the Father; salvation is through Him.
---
Bible Verses
Romans 10:9-13; John 14:6; Jeremiah 29:12
---
Christian Object Lesson Idea
Hold up a cell phone and ask if anyone has ever used one. Ask them about where and when they've used one.
Answers for where may include: in a car, outside, in the house, even on a boat.
Answers for when may include: when I need information, when I need help, when I may be lost and not know directions, or when I just want to talk to someone.
Briefly relate a few instances of when you use your own cell phone.
Ask: Can you just call any number to reach my cell phone?
No, you must know what my phone number is.
Ask: Did you know God wants us to call Him? He even gives us His number!
Read: Romans 10:12-13
"For there is no difference between Jew and Gentile--the same Lord is Lord of all and richly blesses all who call on him, for, "Everyone who calls on the name of the Lord will be saved."
God's number is J-E-S-U-S.
Romans 10:9-10 tells us how -
"That if you confess with your mouth, "Jesus is Lord," and believe in your heart that God raised him from the dead, you will be saved. For it is with your heart that you believe and are justified, and it is with your mouth that you confess and are saved."
We can't just call any number and reach God. Jesus said in John 14:6, "I am the way and the truth and the life. No one comes to the Father except through me." There is no other way to call on God except through Jesus Christ, His Son.
Once we know Jesus, we can call on God anytime and anywhere. He says in Jeremiah 29:12 -
"Then you will call upon me and come and pray to me, and I will listen to you."
Close this Christian object lesson by saying: We can have a phone, we can know someone's number, but until we choose to actually dial the number, we'll never reach them. It's our choice to call on God; we must act upon our choice. He's there anytime, anywhere and for anyone.
---


Christian Object Lesson Idea - Option 2
Theme
We need to be spiritually charged to be used just like a cell phone needs to be charged.
Bible Verses
Proverbs 8:34, Luke 10:38-42
Lesson
What else can we learn from a cell phone? Have you ever left your charger behind when you went on a trip? Without access to a source to recharge, it probably finally went dead and was unusable.
What about us spiritually? Have you ever been so busy you ran out of charge because you neglected to "plug-in" to the Source (God)?
Daily time "plugging-into" God's Word and a time of prayer is essential if we as Christians want to be usable in God's hands.
The Bible says in Proverbs 8:34 Blessed is the man who listens to me, watching daily at my doors, waiting at my doorway.
Think about it...when you go without food for a period of time, how is your strength and stamina? We must take time to feed and nourish our spirit too, and the way to do that is spending time sitting at Jesus' feet just as Mary did. He said of her that she had chosen "the best." He is to be our source and strength.
Get "plugged-in!"
© Copyright 2008 Susan Smart

More Christian object lessons...


Connect with us on