Search our site:

A Bible Object Lesson - Cooking & Recipes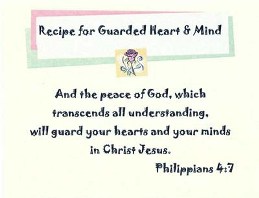 This Bible object lesson uses a recipe & cooking instructions to illustrate how we can trust God's Word.

Main Point:  We can trust what the Bible says because God wrote it.  
Object: an old family recipe or supplies & instructions to make instant pudding
Scriptures: 2 Timothy 1:12b "because I know whom I have believed, and am convinced that he is able to guard what I have entrusted to him for that day."
Hebrews 13:6-7 "So we say with confidence, "The Lord is my helper; I will not be afraid. What can man do to me?" Remember your leaders, who spoke the word of God to you. Consider the outcome of their way of life and imitate their faith."
Bible Object Lesson:

Ask listeners if they've ever used someone else's recipe. Show them a recipe that you have that belonged to a trusted family member or special friend. Tell them that you asked them to share the recipe because you had tasted the food before and enjoyed it. Share a little about what it's for and maybe even have some ingredients to mix in front of them or samples to taste.
Share that you were able to follow the recipe and believed that the outcome would be good not because of the ingredients or your own abilites, but because you trusted the one who gave it to you. But to experience what the recipe promises, you first must take a step of faith and actually do what it tells you to do.
The Bible is like a wonderful recipe for life. We can know that the outcome of believing and following it will be good not because of what it says or our own ability to follow it, but because of the One who wrote it. When we have "tasted" God's goodness and love through accepting His Son, Jesus, as our Lord and Savior, we can know the One in whom we have believed and know that His recipe can be trusted.
By actually participating in the Bible object lesson, children will retain so much more of the lesson.
There is an old saying, "the proof is in the pudding." Actually the original saying said: ""the proof of the pudding is in the eating" meaning that the quality or true value of something can only be judged when it has been put to use. In the same way, the proof or truth of God's Word in which we believe will be revealed as we actively put it to use in our lives.
In summary, we can know that what we believe is true because of the One in whom we have trusted. The truth of what we believe will be revealed in the results of us taking the steps to put His Word into use in our lives..."the proof of the pudding is in the eating!"
At this point, let them have a taste as proof that the recipe was true!
Bible object lessons are practical ways to teach powerful Bible truths to children, youth, and even adults.
© Copyright 2008 Susan Smart
---
Creative Bible-Bits Newsletter:

Let us help you keep up with what's new at Creative Bible Study with free Bible study lessons and ideas straight to your email!  Your information will be kept confidential and not be used for solicitation.